Material Handling Equipment
We carry all makes and models of forklift, aerial, terminal tractors, and more.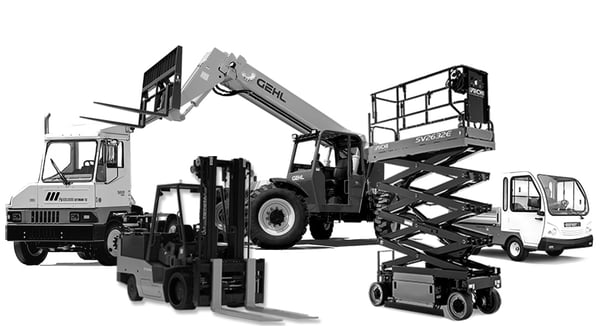 Get equipped.
When the world depends on you for getting a job done right, you need equipment you can depend on. With The Lilly Company as your material handling partner, you will run the safest, most efficient, and profitable operation possible. Get Equipment Perfectly Suited for Your Operation
We won't just sell you equipment and take your money. We'll ask questions, dig deep and evaluate your operation to make sure you get exactly what you need.
TYPES OF EQUIPMENT
You want the right equipment in order to do your job best, so your customers are happy. We've got you covered.
Get the best material handling equipment for your needs and budget.
Paying for new equipment doesn't have to be stressful. The Lilly Company offers flexible payment options, and our expert staff will ensure you get a payment plan well-suited to your operation.

OWN
If owning a forklift outright is the best fit for your business, we'll find the best financing option for your operation.

LEASE
For some businesses, a forklift lease is the perfect way to maximize their purchasing power. Take advantage of the latest technology and write off your lease payments.

RENT
Need to respond to a spike in business? Want to try before you buy? Prefer to have someone else maintain your equipment? Ask us about renting equipment.

NOT SURE?
If you aren't sure whether to buy, lease or rent, that's OK. Download our free Guide to Forklift Financing to learn how to choose the best option for your business. Download your FREE guide!
Material Handling Equipment
With 13 locations throughout the Mid-South region, you are sure to find what you need, when you need it.
We proudly offer:
Toyota, Clark, Linde, and Komatsu

Scissor lifts, booms & all MEWP

Terminal tractors

Special use forklifts

Utility vehicles

Construction equipment

and much more!
TESTIMONIAL
Here's what our customers say:
"We've had a relationship with Lilly for 20 years. We've tried other companies, but Lilly is always the first group we reach out to. Of the material handling companies we deal with, Lilly is by far the better company. They've been around the longest and provide the best service. Brad Gregory has always done everything he could do for us."
Director of Facilities at Viking Range
Working for the government, it is important to be a good steward of taxpayer money. The Lilly Company makes recommendations I would never think of. That's why they are my go-to solution for forklift, material handling equipment, and services. I highly recommend rental from The Lilly Company!
Private Government Agency
FROM THE BLOG
Material Handling Products and Solutions
Whether you know what you need or aren't sure
We've got your back.